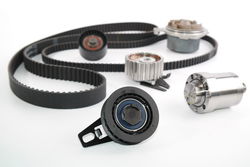 Alfa Timing Belt Change Special Offer
IMPORTANT NOTICE FROM ALFA ROMEO
As of 13/11/2006 the official service interval on cambelts on 1.6l, 1.8l, 2.0l Twin Spark engines and 2.0l JTS engines in all models of all ages has been reduced to 36,000 miles or 3 years (whichever is the soonest).
The Genuine Alfa Romeo spares in the attached picture (click to enlarge) are as follows:
- Outer belt is the cam belt, this takes the drive from the crank shaft to the twin overhead camshafts.
- Inner belt is the balancer shaft belt which is only fitted on 2.0 litre cars
- And from left to right we have a metal cam belt tensioner, Idler for the cam belt, tensioner for the balancer shaft belt and the cam shaft variator. Please note that the variator is an additional item and is only included at extra cost.

1.6 and 1.8 litre 16 valve engines as fitted in the following models:
- Alfa Romeo 145/146,
- Alfa Romeo 147,
- Alfa Romeo 156.
We do this for £260 including changing the tensioner, idler, fitting and VAT.
Related Link: Book online 24/7 | How to fit an Alfa 1.6l or 1.8l cam belt

2.0 litre 16 valve engines as fitted in the following models:
- Alfa Romeo 155,
- Alfa Romeo 145/146,
- Alfa Romeo 147,
- Alfa Romeo 156,
- Alfa Romeo GT,
- Alfa Romeo 166,
- Alfa Romeo GTV,
- Alfa Romeo 164,
- Alfa Romeo Spider.
We do this for £325 including Cam belt, cam belt tensioner, idler, balancer shaft belt, balancer shaft tensioner, fitting and VAT. If the car needs a variator (this is the device that adjusts the timing of the inlet camshaft and makes a sound like a diesel on start up when worn), it will cost an extra £170 inclusive of VAT.
Related Link: Book online 24/7 | How to fit an Alfa 2l cam belt

2.5 & 3.0 litre V6 engines as fitted in the following models:
- Alfa Romeo 147,
- Alfa Romeo 156
- Alfa Romeo 164,
- Alfa Romeo 166,
- Alfa Romeo GT,
- Alfa Romeo GTAs,
- Alfa Romeo GTV,
- Alfa Romeo Spider.
We do this for £535.00 including cam belt, tensioner, fitting and VAT.
Related Link: Book online 24/7 | How to fit an Alfa V6 cam belt

1.9 & 2.4 litre diesel engines as fitted in the following models:
- Alfa Romeo 147,
- Alfa Romeo 156,
- Alfa Romeo GT,
- Alfa Romeo 159,
- Alfa Romeo Brera
For the 147, 156 & GT, the price for this is £350 including cam belt, tensioner, water pump, fitting and VAT. Book online 24/7
For the 159 1.9/2.0, the price for this is £380 including cam belt, tensioner, water pump, fitting and VAT. Book online 24/7
For the 159/Brera 2.4, the price for this is £450 including cam belt, tensioner, water pump, fitting and VAT. Book online 24/7
Related Link: How to fit an Alfa 147/156/GT Diesel cam belt

2.2 litre JTS engines with CHAIN driven cams as fitted in the following models:
- Alfa Romeo 159,
- Alfa Romeo Brera.
We will do this for £550 including the full cam chain kit fitting and VAT. If you want the balancer chain replaced at the same, which we recomend it will cost £730. Occasionally when the cam chain stretches you will have damage to the operating solonoids and these may need replacing as well at around £100 each and an oil change is always a good idea.
Related Link: Book online 24/7 | How to fit an Alfa 159/Brera JTS cam chain
Related Links: Alfa Cam belt Kits | Alfa Cam Locks & TDC Gauges