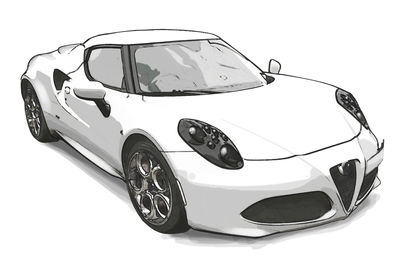 See our 4C specific web site for more info on the 4C
These are our Alfa Romeo servicing costs, all services are done exactly in accordance with the manufacturer's servicing schedule, there is no difference between what we do and what a dealer does.
Prices include VAT and we use Genuine or Original Equipment parts and Selenia oil.
If you want to book a service with us, simply click on the relevant service and follow the instructions

To see the operations to the services go to 'Schedule'
Braking
Front
Rear
Non Sided
Brake pads (Genuine)
£213.42
£165.55
Brake pads (Ferodo) *
£288.00
£267.00
Brake pads & discs (Genuine)
£654.22
£543.41
Brake pads & discs (Ferodo) *
£728.80
£644.86
Goodridge brake hose kit
£296.45
Brake fluid replacement
£55.80
* FERODO DS 2500 performance brake pads are used instead of Genuine ones but the brake discs still remain Genuine Alfa Romeo
Air conditioning re gas
MOT
Cam belt replacement
Wiper blade
Other services
£186.00
£54.85
£672.85
£28.96
___________________________________________________________________________________________________________
If you require a service price and it is not listed here please use this link jamie@alfaworkshop.co.uk or phone us on 01763 244441
Should you wish to use other specific items (eg Selenia Racing or HPX oils) we can easily use the parts you require and the cost will be adjusted accordingly.